Rome Trip, 2012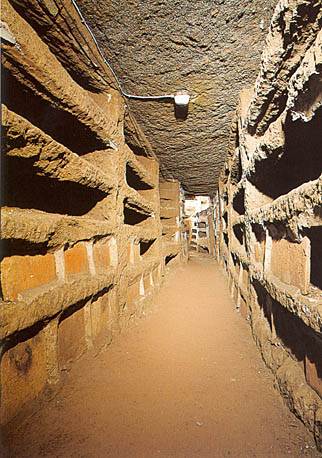 Teachers and students are looking forward to visiting Rome in the summer of 2012 and to taking in famous sites such as The Catacombs, The Colosseum, The Roman Forum & Palatine Hill, The Time Elevator and St Peter's Basilica.
Here is a picture of the Catacombs which form an underground maze in the outskirts of the city. Over 40 catacombs provide a glimpse into the world of early Christianity in the city. Along with countless burial chambers that line the tunnels, the catacombs contain some of the earliest examples of Christian art.
Catacombs San Sebastian is one of the smallest Christian Cemeteries and has always been one of the most accessible catacombs.
Catacombs of Saint Callixstuts - They originated about the middle of the second century and are part of a complex of cemeteries which occupy an area of 90 acres, with a network of galleries about 12 miles long, in four levels, more than 20m deep. In it, tens of martyrs, 16 popes and very many Christians were buried.
Enjoy!